About Mike Coombes
When I was a kid, the local theatre would publicise new productions with glossy 10 x 8 photographs taken by a local photographer. They were printed in luscious high-contrast black and white, depicting cast-members frozen in dramatic poses, and they were beautiful. I would stare at them and absorb them and they are still with me today. That long-forgotten photographer left an indelible mark on me for which I will be forever grateful.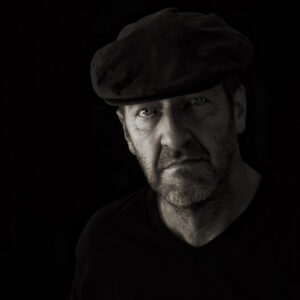 It was also a time when newspapers carried the images of some of the greatest photojournalists and front pages splashed with gritty, visceral monochrome images that demanded attention.
I now work primarily in black and white (my first love) but I'm equally at home with colour, and can work analogue or digital. I specialise in candid portraiture and reportage and have covered the Brighton Fringe Festival and Brighton Pride for the last 11 years, the Brighton Tattoo Convention since 2013 and numerous Comic Conventions and theatrical productions.
My latest book on tattooists, The New Rock Stars,features fine-art environmental portraiture in a 300 x 300mm (12″ x12″) book that will grace any coffee table. Available in a limited edition print run (only 100 copies will be printed) each copy will be individually signed and numbered.





I'd love to work with you. Take a look at my upcoming/ongoing projects.

Commercial
I am available for general portraiture, artiste and corporate head shots, please get in touch to discuss your requirements and rates.